This is the 3rd city State from Judges Guild. Two books, each 96-pages, detailing the City State of Tarantis and the surrounding campaign area. Includes a 20"x28" map of the City State of Tarantis and Campaign Area Map Four. Details on the history, government, customs, religions, and military of Tarantis. Also covers the shops and courts of Tarantis, The Tarantine Palace, Bard or Fighter Citadel, Ho Chi's Castle, The Azurerain Pirates and their stronghold. A Judges Guild Universal Fantasy Supplement.
Maps include:
20"x28" Map of the City State of Tarantis
Campaign Map #4-Tarantis
The scans are of 3 different covers, i am unsure if they are the 1st and 2nd books or if there are more then one printings.

Printing Information
1st Printing:(19??)

Auction History
SW:$15.50(4/01), VG/EX:$5.00 (5/01)
click thumbnails to enlarge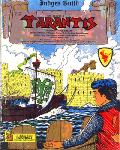 Tarantis Book 1

Tarantis Book 2

Tarantis Book ?