A 96-page book of AD&D tear-out sheets to keep statistics on the player's characters. Includes spaces for character's title, age, history, clas, level, hit points, expereince points, divinity, background, and characteristics and their effects. Also provided are a blank shield for designing the character's coat of arms and a detailed AD&D equipment list with costs. Each character sheet has a small illustration of the character class by Paul Jaquays; sheets are perforated for easy removal from the booklet. The playing aid has been especially designed and approved for use with AD&D.

Printing Information
1st Printing:(19??) Black and white cover with product number in the bottom left.
2nd Printing:(1979) Blue and Black cover with product number in the top left.
3rd Printing:(19??) Color cover with product code in yellow box near the top.

Auction History
click thumbnails to enlarge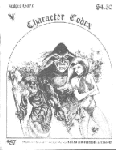 Character Codex (1st)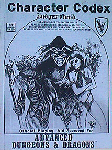 Character Codex (2nd)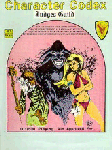 Character Codex (3nd)