A truely unique dungeon adventure set inside a magic cloud: a Storm Giant has built his stronghold on it, but his son was kidnapped by a worm-creature that vanished into the cloud, and the players are offered great rewards to rescue him. The 32-page booklet, lavishly illustrated and mapped, contains six levels and ten unique new monsters. Intelligent monsters are given names and certain characteristics, and devilish traps and innovations are scattered here and there: a tornado within the cloud that takes characters from level to level without injury, and eleven new "miscellaneous magic" artifacts. This product has been especially created and approved for use with D&D.

Printing Information
1st Printing:(1979) Cover has white border.
2nd Printing:(19??) Cover has black border.

Auction History
2nd: G:$3.00(5/01), NM:$9.99 (5/01), NM:$3.76(6/01)
click thumbnails to enlarge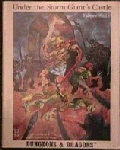 Storm giant's castle(1st)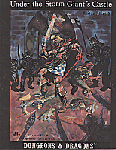 Storm giant's castle(2nd)