This 80-page booklet with color cover details the city of Verbosh and surrounding wilderness areas, including the villages of Warrenburg and Haygaras. Verbosh provides thorough coverage of street encounters, underwater adventures, two complete dungeons, and two wilderness areas. More than the usual dungeon adventure, this is a complete micro-campaign that will keep the players busy for days on end... if they survive. The two dungeons include the three-level sewers and dungeons beneath the city of Verbosh and the nine-level Schawang-Nau Tower. Verbosh has been especially created and approved for use with D&D.

Printing Information
1st Printing:(19??) Man on cover has blue helmet and breastplate.
2nd Printing:(19??) Man on cover has yellow breastplate and helmet.

Auction History
1st: P/G: $6.50 (4/01), G:$4.26(6/01)
2nd: F: $2.00 (3/01), NM:$8.50(6/01), EX:$3.75(6/01)
click thumbnails to enlarge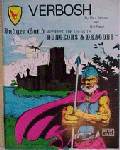 Verbosh (1st)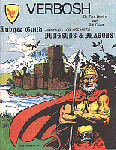 Verbosh (2nd)