The 1979 Pacificon AD&D official tournament dungeon, which details the capture of an Elven Princess by a band of fierce new monster, Ice Ogres. This 32-page booklet includes a very detailed Alchemist's Laboratory which may be used by the Judge on other situations, and pre-rolled characters and combat tables, plus statistics on the Ice Ogres, Electric Crawlers and more. Beware the King of the Ice Ogres and his gruesome treasure! Notes on the play of this tournament were published in The Judges Guild Journal #18. This playing aid has been created and approved for use with AD&D.

Printing Information
1st Printing:(19??) Product number is integrated in background of cover.
2nd Printing:(19??) Product number in yellow square.Ogres pants are White and black
3rd Printing:(19??) Ogres pants are blue and black

Auction History
1st: G:$4.99(3/01), EX:$2.25(4/01)
2nd: F:$2.00 (5/01),
3rd: M:$7.17(3/01), M:$5.00(4/01), G:$5.50(4/01), M:$5.99 (6/01)
click thumbnails to enlarge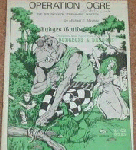 Operation Ogre (1st)

Operation Ogre (2nd)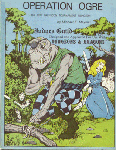 Operation Ogre (3rd)